Smear Campaign Against the Institute for the Research of Genocide, Canada
Institute for the Research of Genocide Canada
Published: March 4, 2011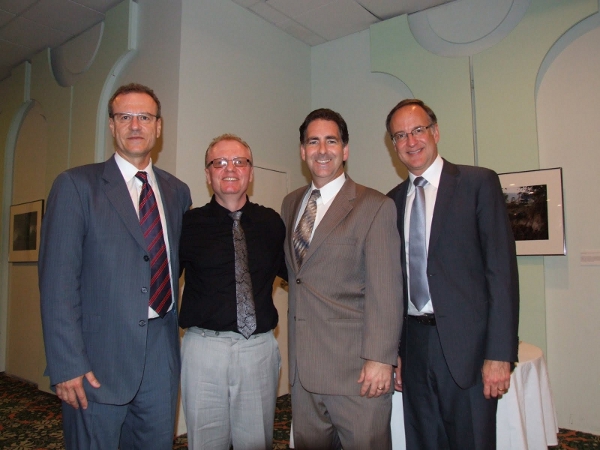 PRESS RELEASE: Congress of North American Bosniaks (CNAB), Institute for Research of Genocide Canada, and Bosnian American Institute for Genocide and Education (BAGI) press release regarding attacks by the extremist Serbian propaganda against these insitutions
* * *
Institute for Research of Genocide (IRGC), the Congress of North American Bosniaks (CNAB) and Bosnian American Institute for Genocide and Education (BAGI) inform the public that following the Canadian authorities denial of entry to Srdja Trifkovic, the ultranationalist Serbian propaganda began a smear and attack campaign of attacks on these organizations. Using lies and Goebbels-like propaganda they intend to specifically deceive the public with false and preposterous accusations that the Institute for Research of Genocide Canada denies the Holocaust, and to defame the IRGC chairman Professor Emir Ramic and other members of the expert team from the Institute.
On the contrary, facts show that Serbia was the first to use gas vans during the Second World War in Nazi Europe to kill Jewish civilians so that Belgrade and Serbia would be cleared of Jews. Serbia has never faced its Nazi collaborationist past nor rejected fascism as an ideology, which is the main reason for the violent developments in the nineties where Serbian followers of ultranationalist ideology caused four wars in the Balkans and are directly responsible for hundreds of thousands of innocent human lives, millions displaced, and mass destruction of historical monuments, infrastructure and entire settlements. Serbian ultranationalist propaganda false claims are based on completely fabricated facts. Unfortunately, until Serbia recognizes and accept the facts of its infamous and troubled past, the process of reconciliation and progress towards a sustainable future together with mutual respect in the region will continue to stagnate.
We have always believed and will continue believe that the denial of the Holocaust, genocide, crimes against humanity and war crimes against civilians, are criminal acts of hate speech. The main objective of the Serbian ultranationalist extremist propaganda campaign is an attempt to stop the IRGC, CNAB, and BAGI from educating the public on the truth about the aggression on Bosnia and Herzegovina (BiH) and genocide against non-Serbs in Bosnia and another attempt by Serbian propagandists to give international legitimacy to the aggression and the goals of the "Greater Serbia" project.
We invite all organizations and individuals to oppose Serbian extremist propaganda by presenting evidence and truth to the public. Unfortunately, a strong Serbian extremist lobby in Canada and the U.S. is trying to distort facts, mislead the public, and utilize a media smear campaign of fear in order to dubiously justify the actions of perpetrators of genocide in Bosnia and elsewhere in the Balkans. Serbian aggressors in the Balkans were first to dig up mass graves, burn the bodies, trying to cover up the evidence by intimidating witnesses, and are now actively spreading lies about the activities of our organization and any other organization that speaks out against them. Genocide deniers refute the facts that Serbia was led by a war criminal and a certified terrorist Slobodan Milosevic, with the help of its partners in crime in Bosnia, Croatia, Slovenia and Kosovo. They also continue to deny that Serbs committed any crimes, and often blame the victims for what happened during the aggression on Bosnia and Herzegovina, Croatia, Kosovo, and Slovenia. It is worth noting that Bosnian Serb war time leader Radovan Karadzic, is currently in The Hague before the International Tribunal for genocide and war crimes committed against civilians in Bosnia, and that Ratko Mladic, Bosnian Serb general, also a war criminal, is still hiding in Serbia 15 years after the end of the war in Bosnia. Our institutions will continue the activities of opposing all those who deny genocide and war crimes with the ultimate goal of preserving the truth about crimes committed against Bosnia and Herzegovina and its citizens and the peoples of Bosnia and win justice for the victims of these crimes. At the same time we will continue activities for the victory of truth and justice toward all other nations and countries that are in any way endangered and at risk of genocide.
IRGC, CNAB, BAGI have informed the relevant U.S. and Canadian authorities, as well as authorities in Bosnia and Herzegovina on the alarming attacks and threats that were received against our organizations.
Haris Alibasic, MPA, President
Congress of North American Bosniaks
www.bosniak.org
Prof. Emir Ramic, Chairman
Institute for Genocide Research Canada
www.instituteforgenocide.ca
Sanja Seferovic-Drnovsek J.D, MEd, Chair
Bosnian American Institute for Genocide and Education (BAGI)
www.baginst.org


For the sake of remembering the victims of genocides around the world and creating a world free from organized mass killings of civilians let us all work together to prevent future genocides
The 1948 Geneva Genocide Convention was created in response to the crime of genocide of Holocaust of Jews. At the time of the Holocaust, there existed no international law with respect to that heinous crime.
During all material times of the 1992-1995 aggression against the Republic of Bosnia and Herzegovina, and specifically against its Bosniak population, there existed the 1948 Geneva Genocide Convention. There also existed two Orders issued by the International Court of Justice, in April of 1993 and in September of 1993 respectively, directing then Yugoslavia - consisting of Serbia and Montenegro - to stop committing the crime of genocide. Those Orders were, ostensibly, also issued to the Security Council of the United Nations, which institution failed to carry out those Orders.
Today we all know the horrors and the horrific number of casualties, especially inflicted upon the biological body of Bosniaks.
Today we witness a rather different "International Community" in that it has decided to prevent despots such as Muamer Gadafi from murdering his own people en masse. That kind of an international community did not exist when Bosniaks were slaughtered in the hundreds of thousands by, primarily, Orthodox Christians.
If we really want to prevent future genocides we must do much more than sympathize with the victims. We have to comprehend the psychological depth of the perpetrators of genocide and indifference of genocide observers.  We have to learn what makes some persons, who were once normal, to hate other persons and people to the extent that they want to systematically and methodically eliminate them all! But we also need to learn about those who support genocide against innocent people or observe it from the distance! We need to learn more about them too! We need to learn about genocide not only as of historical facts but also as a means to teach our children about the dangers of human intolerance. We must teach younger generations to appreciate democracy and human rights and encourage them to reject hatred, intolerance and ethnic conflicts so that "never again" is really true, so that neither Auschwitz nor Srebrenica ever happen again.
Denying genocide should not be called freedom of speech
Denial of Bosnian Genocide, By Prof. dr. SMAIL ČEKIĆ
http://www.instituteforgenocide.ca/denial-of-bosnian-genocide/
Anti-Semitism, racism and Srebrenica genocide denial, By Dr. Marko Attila Hoare,  "Source: Originally Published on March 24, 2022 in Greater Surbiton Blog"
More: http://www.instituteforgenocide.ca/anti-semitism-racism-and-srebrenica-genocide-denial/
1. http://srebrenica-genocide.blogspot.com
2. http://bosniAgenocide.wordpress.com
3. http://bosniaNgenocide.wordpress.com
4. http://bosniakandjewishfriendship.wordpress.com
5. http://www.instituteforgenocide.ca
6. http://issuu.com/srebrenica_genocide/docs/anti-semitism__racism_a nd_srebrenica_genocide_deni
7. http://www.scribd.com/doc/51508029/Anti-Semitism-Racism-and-Srebrenica-Genocide-Denial
8. http://www.docstoc.com/docs/74675009/Anti-Semitism-Racism-and-Srebrenica-Genocide-Denial
Denying genocide should not be called freedom of speech, By Dr. Srdja Pavlovic, University of Alberta
More: http://www.instituteforgenocide.ca/denying-genocide-should-not-be-called-freedom-of-speech/#more-2695
Universities often misused as platforms for hate speech
More: http://www.instituteforgenocide.ca/universities-often-misused-as-platforms-for-hate-speech/
Genocide denial hardly enlightening, Goran Simic, Edmonton, Canada
More: http://www.instituteforgenocide.ca/genocide-denial-hardly-enlightening/
Appeal to the defenders of the truth about genocide in Bosnia and Herzegovina, by Philosopher, author, humanist, pre-war resident of Sarajevo, Mr.Sci. Marjan Hajnal, Israel
More: http://www.instituteforgenocide.ca/appeal-to-the-defenders-of-the-truth-about-genocide-in-bosnia-and-herzegovina/
Trifkovic's actions during the 1992-1995 war, genocide denial and 'hate speech' — makes him morally reprehensible, by Philosopher, author, humanist, pre-war resident of Sarajevo, Mr.Sci. Marjan Hajnal, Israel
More: http://www.instituteforgenocide.ca/trifkovics-actions-during-the-1992-1995-war-genocide-denial-and-hate-speech-makes-him-morally-reprehensible/
The Canadian Authorities were right to keep Srdja Trifkovic Out, by Mirza Velagic, Seattle, USA
More: http://www.instituteforgenocide.ca/the-canadian-authorities-were-right-to-keep-srdja-trifkovic-out/
Press release of the Institute for Research of Genocide Canada, Srdjan Trifkovic has not been allowed to get into Canada
More: http://www.instituteforgenocide.ca/press-release-of-the-institute-for-research-of-genocide-canada-srdjan-trifkovic-has-not-been-allowed-to-get-into-canada/#more-2655
Smear Campaign Against the Institute for the Research of Genocide, Canada
More: http://www.instituteforgenocide.ca/smear-campaign-against-the-institute-for-the-research-of-genocide-canada/
It would be an insult to all those who truly value human life, to provide an academic platform to someone who is an open apologist of politics of hatred and propagates further genocide denial regarding the events that occurred during the aggression on Bosnia and Herzegovina
Press release of the Institute for Research of Genocide Canada, Srdjan Trifkovic has not been allowed to get into Canada
More: http://www.instituteforgenocide.ca/press-release-of-the-institute-for-research-of-genocide-canada-srdjan-trifkovic-has-not-been-allowed-to-get-into-canada/
Press Release of the Institute for Research of Genocide Canada
More: http://www.instituteforgenocide.ca/press-release-of-the-institute-for-research-of-genocide-canada-2/
The letter of the Minister- Consoler Liaison officer to ICTY in the Hague to the University of British Columbia
More: http://www.instituteforgenocide.ca/the-letter-of-the-minister-consoler-liaison-officer-to-icty-in-the-hague-to-the-university-of-british-columbia/
The letter of Suzana Vukic – Columnist, The Hudson/St.Lazare Gazette to the University of British Columbia
More: http://www.instituteforgenocide.ca/the-letter-of-suzana-vukic-columnist-the-hudsonst-lazare-gazette-to-the-university-of-british-columbia/
The letter of the Bosniak Islamic Community in Canada to University of British Columbia
More: http://www.instituteforgenocide.ca/the-letter-of-the-bosniak-islamic-community-in-canada-to-university-of-british-columbia/
The letter of the Archbishop Lazar Puhalo
More: http://www.instituteforgenocide.ca/the-letter-of-the-archbishop-lazar-puhalo/
The letter of the Dr Marko Attila Hoare to the University of the British Columbia
More: http://www.instituteforgenocide.ca/the-letter-of-the-dr-marko-attila-hoare-to-the-university-of-the-british-columbia/
The letter of the Institute for Research of Crimes Against Humanity and International Law from Sarajevo to the University of British Columbia
More: http://www.instituteforgenocide.ca/the-letter-of-the-institute-for-research-of-crimes-against-humanity-and-international-law-from-sarajevo-to-the-university-of-british-columbia/
BAGI letter to University of British Columbia regarding genocide denier Srdja Trifkovic
More: http://www.instituteforgenocide.ca/bagi-letter-to-university-of-british-columbia-regarding-genocide-denier-srdja-trifkovic/
CNAB letter to University of British Columbia regarding genocide denier Srdja Trifkovic
More: http://www.instituteforgenocide.ca/cnab-letter-to-university-of-british-columbia-regarding-genocide-denier-srdja-trifkovic/
BAC letter to University of British Columbia regarding genocide denier Srdja Trifkovic
More: http://www.instituteforgenocide.ca/bac-letter-to-university-of-british-columbia-regarding-genocide-denier-srdja-trifkovic/
The protest letter of the IRGC to the President of the of the University of British Columbia
More: http://www.instituteforgenocide.ca/the-protest-letter-of-the-irgc-to-the-president-of-the-of-the-university-of-british-columbia/
M. Sells, Breivik, Trifkovic, Bat Ye'or, part 1, 1, Part 1, Breivik, Trifkovic, and Radical Serb Ideology
More: http://home.uchicago.edu/~/msells/Breivik,%20Trifkovic,%20and%20Radical%20Serb%20Ideology.pdf
Dr. Marko Attila Hoare, Anders Behring Breivik, the Balkans and the new European far-right
More:http://greatersurbiton.wordpress.com/2011/07/29/anders-behring-breivik-the-balkans-and-the-new-european-far-right/