Project "Srebrenica, mapping genocide"
Institute for the Research of Genocide Canada
Published: August 2, 2010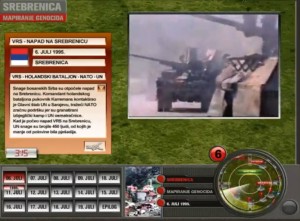 Youth Initiative for Human Rights (YIHR), under umbrella of the Civil Rights Defenders, National Endowment for Democracy and the USA Embassy in Bosnia and Herzegovina, realized the Project "Srebrenica, mapping of genocide".
The Project "Srebrenica, mapping of genocide" was realised by FAMA team (led by Suada Kapić), Vildana Selimbegović, editor and creative team (led by Jelena Oksenfeld), and in cooperation with "Vizual studio".
YIHR BiH as a grant holder, set creation of modern, acceptable and user friendly tool as it's objective. We discovered a new model of combining facts and modern technology which allows for easy searching and download of information.
Starting from there we developed idea for realisation through documentary animation i.e. 17 animated maps, following events and phases related to the genocide in Srebrenica from 6-19 July, 1995.
The project consists of several phases which will enable accessibility to general public, firstly as communication mechanism amongst young people in Bosnia and Herzegovina and Serbia, in the region, and the world, and subsequently as a key mechanism for lectures and discussions about the genocide in Srebrenica.
You can download "Srebrenica, mapping genocide" DVD for free here: http://www.srebrenica-mappinggenocide.com/. You can also watch it on YouTube here http://www.youtube.com/watch?v=_rkqpd8uLSE .
* Currently, available only in Bosnian language.